THE OFF-BROADWAY SCIENCE FICTION COMEDY THAT SPAWNED
A COMIC BOOK REVOLUTION COMES TO AUDIO!
In a far-flung and very alternative future, Captain Galatia 9 and the crew of the Harpy are on a mission for the United Federation of Female Freedom Fighters. When the Harpy runs into a living ship inhabited by a team of galactic evil-doers, including Galatia's insidious sister Verloona Ti, the outcome of the battle may well decide the fate of the free multiverse. Often hilarious, always surprising, Starstruck, is a spine-tingling joy-ride to the far side of the spiral arm!
Starstruck features the vocal talents of: TAVIA GILBERT, DENISE POIRIER, JENNYWREN SANDERS, KRISTINA BALBO, GENEVIEVE CASAGRANDE, JAMES HERRERA, BRENT ASKARI, WILLIAM DUFRIS, LANCE ROGER AXT, CHARLY DULEY, KYM DAKIN, EVADNE BRYAN-PERKINS, BRENNAN LEE MULLIGAN and SIMON VANCE,
 with MARIA REUILLARD, TARYN and AMARA DECKER, SARAH GLIDDEN, MACKENZIE JONES, REBECCA MYSHRALL, RYLEE ANN DOIRON, PATRICK MOLLOY, CHRIS NEWCOMB and AUTUMN POUND.
Adapted for audio by ELAINE LEE
.
 Director/Sound Design: WILLIAM DUFRIS
. 

Composer/Arrangements: DWIGHT DIXON
.
Recorded at: THE STUDIO, PORTLAND, ME.
ACCLAIM…
ROBERT HAYNES, OPPORTUNITY LOL: "Opportunity LOL has a solution to your next long car drive, purchase AudioComics' Starstruck on CD…"
RUDY PANUCCI (PopCult, Charleston Gazette): "The Starstruck Audiocomic is considerably more evolved than a traditional radio drama. At times I was reminded of the radio incarnation of Hitchhiker's Guide To The Galaxy, and at other times the frenetic pace and dense action reminded me of The Firesign Theater. Jokes fly by so fast that repeated listenings will be warranted. 

The Starstruck Audiocomic is a real kick. It's also the healthiest way to read comics while driving. I'm really looking forward to whatever Audiocomics decides to do next."

Click HERE to read the full revew at Rudy's PopCult blog
MIKE CAREY (Writer, X-Men, The Unwritten, Hellblazer, Lucifer): "How do you squeeze a whole universe into a single sound file? Get the audio version of Elaine Lee's Starstruck and find out – or else go to heck in a hovercar."
CLUB PARNASSUS: "Starstruck's translation to the aural medium is superbly done. It's a lush and charming sci-fi comedy which has a lot on its plate but somehow manages to avoid a spill into incoherence…and I do want to say, if there's a stage play out there featuring the wild and ribald adventures of four female space rangers, why is this not performed as often as The Sound of Music? This is just what you need to get people going to the theatre again."

Click HERE to read the full review
AUDIOFILE MAGAZINE: Listeners should be warned that Starstruck is a swashbuckling feminist joyride, a comedic space opera that doesn't take itself too seriously. Fans of The Hitchhiker's Guide to the Galaxy and Firesign Theater will love this crazy audiobook…the full cast of more than two dozen actors is to be commended for this performance about a group of spacewomen who are trying to stop a nasty female pirate from committing a nefarious deed. Listeners who go along for the ride won't be disappointed as long as they know what to expect: a raucous comedy that breaks all the rules. M.S. © AudioFile 2010, Portland, Maine [Published: DECEMBER 2010]
READING AT THE SPEED OF SOUND (www.tor.com): Click HERE to hear the podcast review of Starstruck, complete with interviews with our stellar cast!
JM DeMATTEIS (comics legend, Justice League, Spider-Man, Moonshadow, Imaginalis, The Life and Times of Savior 28) "Open your ears, uncork your imagination and blast off on a mind-expanding intergalactic audio adventure."
TOM LOPEZ (ZBS Foundation): "Funny and sophisticated…you can tell they sure had a lot of fun doing this."
FRED GREENHALGH/RADIO DRAMA REVIVAL! on WMPG FM: "A great example of taking work from another medium and making it audio drama…I highly support it!"

 Click HERE to hear the Starstruck special on Radio Drama Revival!, featuring selected scenes and interviews with a very tired Lance Roger Axt and Elaine Lee!
JOSH FINNEY (Writer/Artist, Titanium Rain, Utopiates): "There's been a lot of this going on lately, comics getting turned into audio dramas. Aside from DC's audio version of Kingdom Come, most of these have been somewhat lacking. Starstruck is a different matter entirely. The acting it top notch, the music and SFX totally pro. Plus the story is hillarious! The over all experience is much like the first time I listened to the Hitchhiker's Guide to the Galaxy audio drama. EXCELLENT!"
TYM STEVENS (RockSex): "Many have heard of the Starstruck play but few have seen it. The series is most known by its comic stories, which are all actually prequels to the play. The AudioComics Company remedies this with their timely new adaptation of the play as an audio play. This finally brings the play, and the dimension of sound, to the general public. Now fans used to the visual side of Starstruck – from Kaluta's art, Moyer's color, or Sean Smith's stage photos – can finally hear the stage personalities, sound effects, and Dwight Dixon's original score. 

The audio play captures all the lunacy of the original play as it rebounds through Sci-Fi chestnuts through a chandelier. What's it like? Imagine the city-smart sass of Princess Leia in Star Wars, and with most of those male parts played by women. The play is Sci-Fi through the funhouse mirror of Firesign Theatre or Douglas Adams: ramped-up, some crazed vamp, a little camp. I say, buy it now, buy it often!" 

Click HERE to read the full review at Tym's RockSex blog
THE DANGER DIGEST: "Bringing the stage play into audio form was without question the right way to go. For one thing, I'm always suspicious of adapting brilliant comics into other media. More importantly, though, the stage play's story was appropriately contained for a, well, play. But don't let that fool you – if there's an aural equivalent to the comics' dense visuals, this is most certainly it. Just as the comics' layers of detail reward multiple reads, so too does the audio play reward multiple listens. Indeed, it's impressive to hear how the storytelling devices used in the comics are translated to the radio play form. A rich use of sound effects creates a detailed, variegated aural landscape complemented by Dwight Dixon's pitch-perfect score.
"And where each issue of the comic would incorporate 'excerpts' from 'historical' accounts like Musing on the Events Leading Up to the Great Change and Ordering Anarchera in order to provide readers with pertinent bits of backstory and effectively flesh out what feels like a very real and lived-in multiverse, in the audio play, an omniscient narrator (voiced by Simon Vance) occasionally speaks up to season the narrative with similar background information.

 For anyone unfamiliar with Starstruck, I recommend you get acquainted first with the comics. But then, just as fast as you can, treat yourself to the radio play, and allow the sounds to flood your mind's eye with visions of Kaluta's art, Moyer's colors and Lee's indelible characters. It's loud, it's raucous, it's baffling, sexy, hilarious and so much more – in short, it's Starstruck. And it's not to be missed."

 Click HERE to read the full review
CHRONOGRAM MAGAZINE: "The cast of AudioComics' radio play version has a blast chewing intergalactic scenery in Firesign Theatre mode."
THE DISCRIMINATING FANGIRL: "Who would think that the fate of the galaxy would hinge on a load of phone books hiding a cache of secret information? The juxtaposition of the mundane and laughably ludicrous reminds me very much of Douglas Adams. And there's plenty for the reference spotter to enjoy. I only started writing them down in Act 2, but I caught nods to and parodies of Star Trek, Doctor Who, Christopher Walken, Woody Allen, Walter Cronkite and The Wizard of Oz, just to name a few…I'd recommend Starstruck the audio comic to anyone who's a fan of The Hitchhiker's Guide to the Galaxy, pulp sci-fi, or just general goofy space operas." 

Click HERE to read the full review.
STARSTRUCK WAS MADE POSSIBLE WITH A GENEROUS UNDERWRITING FROM WMPG FM,
PORTLAND COMMUNITY RADIO.
OUR THANKS TO DALE ROBIN GOODMAN AND THE STAFF OF WMPG
FOR ASSISTANCE ABOVE AND BEYOND THE CALL OF DUTY.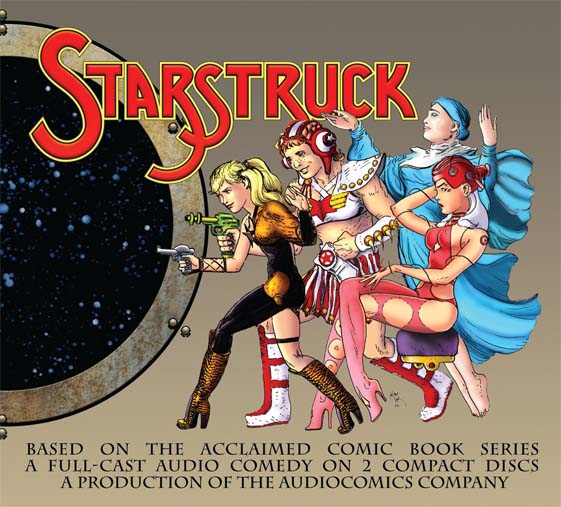 Starstruck Prologue: Rootersnoos Report
Audio clip: Adobe Flash Player (version 9 or above) is required to play this audio clip. Download the latest version here. You also need to have JavaScript enabled in your browser.
Starstruck, Act One, Scene 1: Brucilla and Annie
Audio clip: Adobe Flash Player (version 9 or above) is required to play this audio clip. Download the latest version here. You also need to have JavaScript enabled in your browser.