What the Cool Kids are saying about Starstruck…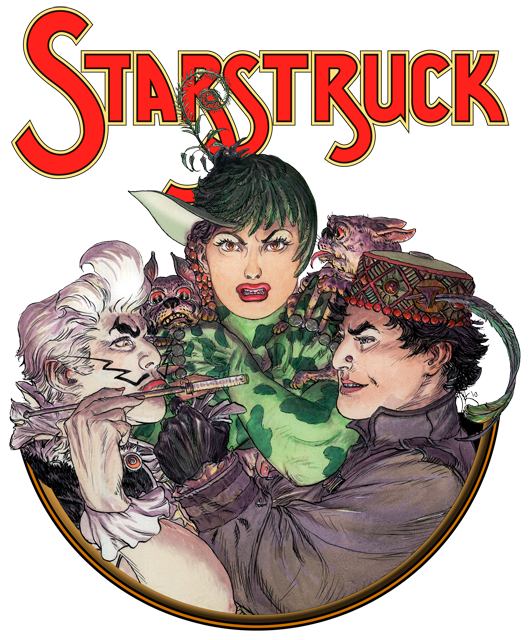 Lets try this
REVIEWS!
Publisher's Weekly: "This brain-bending SF epic is the type of book that once devoured, demands to be passed on to another unsuspecting reader with a meaningful look and a wistful sigh. It is not however the type of read that lends itself well to actually being pinned down in a description any longer than, 'you must have this'."
John Hilgart, The Comics Journal: "And so you can become immersed in Starstruck in a different ways. You can sift for clues, move back and forth among pages, checking, verifying, assembling. Or you can simply give yourself over to it, and sink into each deeply imagined and beautifully rendered scene and character. Or you can do both, walking its pages first as a tourist and on second reading as a detective."
W. Andrew Shephard, The New Inquiry: "Brucilla filled the archetype of the rowdy, boozing, promiscuous hotshot pilot normally reserved for men, and preceded Battlestar Galactica's Kara Thrace in doing so by about 20 years. And as an anarchist punk spaceship captain who was arrested in her youth for defacing public property with feminist revisions of nursery rhymes, Galatia-9 was a Riot Grrrl before the movement existed."
Johnny Bacardi, Pop Dose: "Simply one of the best comics series I've ever read, full of Elaine Lee's Altmanesque storytelling style, challenging and never inclined to spoon-feed the reader; featuring clever dialogue and memorable characters. And on top of that, it's illustrated by one of the modern masters, Michael W. Kaluta, who's never been better… A+"
Clive Barker: (author, director, Hellraiser, Weaveworld): "I was, and am, a huge fan of Starstruck, which I think was one of the most brave and elegant experiments in comic book story-telling.
Alex Dueben, Suicide Girls: "The science fiction story is told in a nonlinear fashion, with a vast cast of characters including multiple female heroines. Starstruck was ahead of its time when it first came out, so reading the book today, it feels very contemporary."
Tym Stevens, Rock Sex: "As great as anything Neal Gaiman, Alan Moore, or Will Eisner ever made and just as essential to the smart reader's collection … Elaine Lee's story is as rich, epic, radical, complex, progressive, hilarious, and breathtaking as the best of our man Alan's work. Matched with the impossibly-layered beauty of Kaluta's art it is beyond peer."
Greg Burgas, Comic Book Resources: "I read this, I love it, and I soak up the art. Kaluta is masterful, with amazing detail, exciting scenes of explosions and chases through space, and Lee continues to pile plot point upon plot point. I don't know if I've mentioned how very funny this comic is."
Mike Carey: (The Unwritten, X-Men Legacy, Lucifer) Favorite comic book of all time? "Starstruck, by Lee and Kaluta."
Rudy Panucci, PopCult: "Lee's complex story makes for a very rewarding comic-reading experience. The visuals are beautiful, thanks to Kaluta's art, but Lee's story provides more than simple eye candy. There are strong female characters, exotic settings and lots of alien landscapes on which to play. The Galactic Girl Guidesstories, of which two-thirds are previously unpublished, features Kaluta's pencils inked by accalimed fantasy artist Charles Vess. These are stories of the childhood adventures of Brucilla, a major player in the series.."
Richard Caldwell, The Lottery Party: "This comic really is better than the Watchmen. I'd stake my life on it."
See the latest Starstruck pages here!
Buy Starstruck, or pre-order Harry Palmer: Starstruck here!